Options
Bookmark

Subscribe

Email to a Friend
Two Updates for a Cleaner Contact Timeline
Bookmark

Subscribe

Email to a Friend
The contact timeline in HubSpot CRM is where you track every interaction an individual has with your business. That's right: every interaction. Page views, sales emails, list memberships, and over a dozen other things. That amount of info is incredibly powerful.
But, in truth, it can make the timeline incredibly overwhelming as well. For contacts with a ton of interactions, sorting through the timeline to find individual engagements is like trying to track down one specific kid at DisneyWorld. There's plenty of awesome stuff, but it's nearly impossible to find the thing you're actually looking for.
With that in mind, today, your timeline gets significantly cleaner: your contacts' sessions on your website are now rolled up into a single unified item on the timeline, rather than being separated into their individual pageview components, and your upcoming engagements are bucketed under a single "upcoming" header rather than being spread across monthly sections. That means it'll take a whole lot less time to find the information you're looking for.
How it works
First, pageviews on contact timelines now roll up into their associated sessions. In plain English: if a contact visits your website and checks out multiple pages, those pages will be combined into a single item on the timeline.
Before: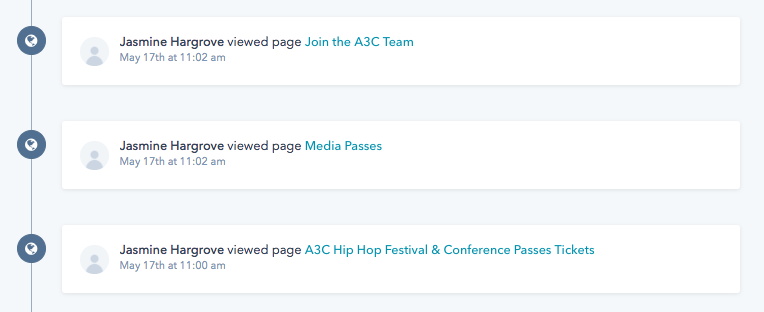 After:

Second, upcoming engagements on the timeline are now combined under a single "upcoming" header that sits right at the top, rather than being sorted by month like the rest of the timeline. That makes your the most important parts of the timeline --- outstanding tasks, upcoming meetings, etc. --- easier to pick out from the pack as you're working through your routine.
These two updates are now live in all HubSpot CRM and HubSpot Marketing portals.