Options
Bookmark

Subscribe

Email to a Friend
[Now Live] HubSpot Modules available in the Marketplace
Bookmark

Subscribe

Email to a Friend
What is it?
HubSpot users in the new Design Manager beta will now have the ability to add individual modules to their portals from the Marketplace. Among the modules that users can now add into their portals is the Custom HTML Module, which was initially removed from the new Design Manager.
Why it matters?
The new modules framework, currently in beta as part of the new Design Manager, bundles HTML, CSS, and Javascript into one self-contained module. Because they're self-cointained these modules can now be packaged up and distributed to users directly from within the Marketplace.
Out of the box, marketers can use these modules to easily create dynamic websites through an intuitive editing experience. In the hands of a developer, it creates a starting point from which more advanced modules can be created.
How it works
Within the marketplace, you will now see a section dedicated to custom modules. Navigating to this section, you will see the following modules available for you to add to your portal.
Parallax Banner
FAQ / Accordion
Icon Card Module
Testimonial
Product Description
Team Member
Tabber
HTML Module
Once added into your portal, you will be able to use these modules right out of the box in the new Design Manager, or you can have a developer build on top of them to create a custom solution. Below are previews of just two of the modules that are available in the Marketplace.
Parallax Banner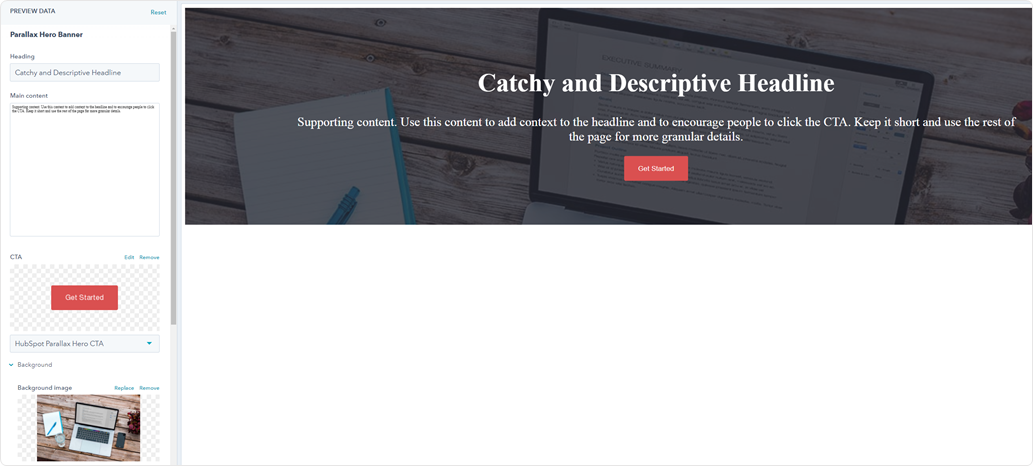 Icon Card Module

Coming soon….
Adding HubSpot Modules to the marketplace is just the first step. Soon, providers will be able to submit modules to the marketplace, similar to how they can now submit templates. More on this coming soon!
Who gets it?
This update is now available to all Marketing Basic, Professional, and Enterprise portals using the new design manager.
What language is it in?
For now, these modules will available only in English. In the near future, they will be localized to all languages supported by HubSpot