Opciones
Marcar tema como nuevo

Marcar tema como leído

Flotar este Tema para el usuario actual

Favorito

Suscribir

Silenciar
Add "Append to current value(s)" option when copying to a multi-checkbox property
resolver
Highlighted
Colaborador ocasional
‎may 16, 2018 12:06 PM - editado ‎may 16, 2018 1:59 PM
When creating a workflow that involves multi-checkboxes, I love that we have the option to append instead of overwrite our existing selections. However, the append option isn't available everywhere.
When using the "Set contact property value" button below, the append option is available. However, if I choose the "Copy contact property value" button, there's no append option. This means I have to resort to elaborate workarounds involving multiple if-then branches just so I can ensure that none of my data is overwritten.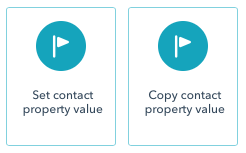 Since the append logic is already built out for the "Set" button , it shouldn't take that much dev time/effort to add it to the "Copy" button too, right? I know this would be very useful and a huge time saver. Thanks!
** Edit **
I just realized this is also an issue when attempting to copy a property value from a contact record to a company record.
Maybe I'm the first person to ever run into this, so here's why this would be so useful. Let's say I have a contact property that tracks which products a contact is interested in. (Spoiler alert: I do.) It would be very valuable to aggregate this info for all employees at a company. So for example, if I know that one employee at a company is interested in products A and B while another employee is interested in products C and D, I'd like to copy all four products to the corresponding company property. That way my sales team knows the full picture when they walk into any given situation.
Opciones
Marcar como nuevo

Favorito

Suscribir

Silenciar

Enviar un correo electrónico a un amigo